ARTISTS
M Lamar | Audrey Chen | Sestrica | Miiia | Borusiade | Lady Starlight | Antenes | Grand River | Stark Amit
M. LAMAR is a composer who works across opera, metal, performance, video, sculpture and installation to craft sprawling narratives of radical becomings. Born May 29th 1984, Lamar holds a BFA from The San Francisco Art Institute and attended the Yale School of Art, sculpture program, before dropping out to pursue music. Lamar's work has been presented internationally, most recently at National Sawdust New York, The Kitchen New York, MoMa PS1's Greater New York, Merkin Hall, New York, Issue Project Room New York, The Walter and McBean Galleries, San Francisco; Human resources, Los Angeles;Wesleyan University; Participant Inc., New York; New Museum, New York; Södra Teatern, Stockholm; Warehouse9, Copenhagen; WWDIS Fest, Gothenburg and Stockholm; The International Theater Festival, Donzdorf, Germany; Cathedral of Saint John the Divine, New York; Performance Space 122, New York; and African American Art & Culture Complex, San Francisco; among others.
Mr. Lamar continues to study classical and bel canto technique with Ira Siff, and is a recipient of a 2016 Jerome Fund Grant for New Music (JFund), a 2016 NYFA Fellowship in Music and Sound and grants from Material Vodka 2016, the Rema Hort Mann Foundation (2015), Harpo Foundation (2014-2015), and Franklin Furnace Fund (2013–14).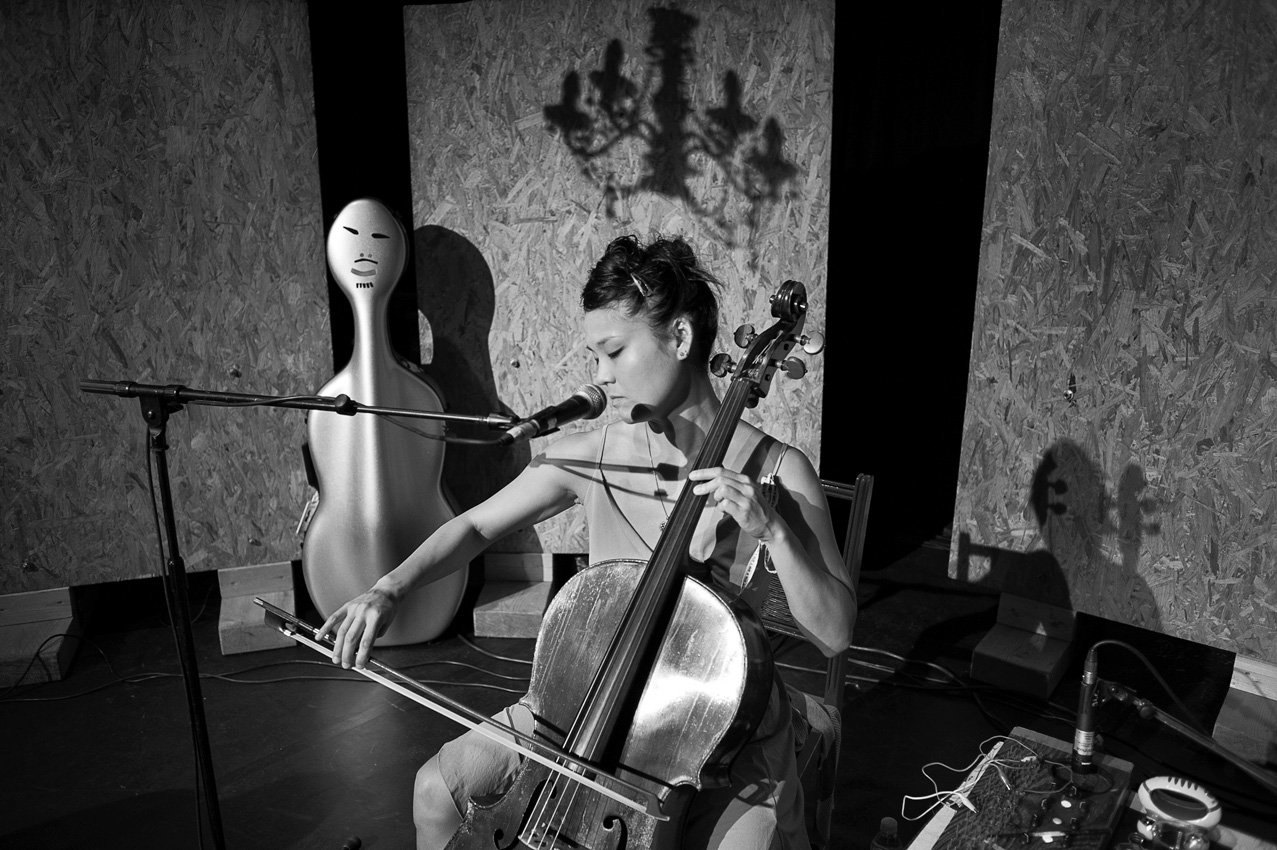 AUDREY CHEN is a Chinese-American musician who was born into a family of material scientists, doctors and engineers, outside of Chicago in 1976. Parting ways with the family convention, she turned to the cello at age 8 and voice at 11. After years of classical and conservatory training in both instruments, with a resulting specialization in early and new music, she parted ways again in 2003 to begin new negotiations with sound in order to discover a more individually honest aesthetic.
Since then, using the cello, voice and occasional analog electronics, Chen's work delves deeply into her own version of narrative and non-linear storytelling. A large component of her music is improvised and her approach to this is extremely personal and visceral. Her playing explores the combination and layering of the homemade analog synthesizer, preparations and traditional and extended techniques in both the voice and cello. She works to join these elements into a singular ecstatic personal language.
Over the past decade plus, her predominant focus has been her solo work with the cello, voice and electronics, but she has more recently begun to shift back towards the exploration of the voice as a primary instrument.
Sestrica is a solo experimental live act from Russia.
MIIIA is a Chinese Canadian electronic music artist. She has been weaving her unique blend of vibes at the forefront of Shanghai's underground music scene since she settled down in the city. With a relentless passion for creation, she continuously builds a musical dream-world that vibrates from the studio into her on-stage performances. Countless party-goers have fallen for her talent and charisma; she is truly a part of China's current underground music movement.

After being exposed to rave culture in Canada, MIIIA began her Shanghai journey with a weekly radio session at uDance (the first 24hr underground music radio station in China). Her weekly live show 'Tripout Session' was ranked no.1 for the station, and for this she was invited to perform at the opening of the 1st International Radio Music Festival in Zurich. It was the beginning of an expansion out of her local scene: since then MIIIA has performed in Spain, Germany, Canada, Korea, Hong Kong, Taipei, and numerous cities in mainland China.
Borusiade aka Miruna Boruzescu started dj-ing in 2002 as one of the only female DJs in the city's emerging alternative clubbing scene. Influenced by a classical musical education and fascinated by raw electronic sounds Borusiade combined these elements in the construction of her DJ sets and starting 2005 also in her music production. After experimenting with different projects, Borusiade slowly crystallised a sound of her own, often dark, with poignant bass lines, obsessive themes and by all means melodic. 2015 she joined the label Cómeme and started the series "The Dreamcatcher" on Radio Cómeme.
Her DJ sets combine bold and obscure sounds and genres fluctuating mostly in the field of Dark Disco, Industrial and Tropical Weirdness, some House with an Acid touch. The sound is gloomy and powerful, with beats that touch one's deepest senses on the dance floor.
Colleen Martin (born December 23, 1975), professionally known as Lady Starlight, is an American musical performer. She has toured three times and is best known for her numerous collaborations with Lady Gaga. Besides her own performances, she also started to perform together with Surgeon (Anthony Child).
Antenes is a New York-based DJ, producer and electronics artist who operates a laboratory of self-made sequencers and synthesizers using vintage telephone equipment. Known for her inventive soundscapes and eclectic DJ sets, Antenes treats the studio as a space for sculpting emergent patterns, textures, and percussion layers. A Brooklyn resident by way of Chicago, her DJ sets dive into hypnotic, acid-laced techno, shimmering electro, shadowy atmospheres and beyond, with a particular ear for odd percussions and syncopations. Her sensibilities as a DJ have awarded three of her podcasts (LIES 025, Juno Plus 119, and Phormix 44) to be featured in Fact Magazine's Week's Best Mixes column. Her production debut, The Track of a Storm EP on L.I.E.S. reveals three tracks of otherworldly techno infused with "lazer shot synthwork," "ghostly noise layers," "muscular bass shapes and sparking percussions,"(per Boomkat) appearing on the 2015 best-of lists for Juno and Fact magazine. Her label affiliations are set to expand further, with forthcoming releases on The Bunker New York and Silent Season. Antenes is currently an Artist in Resident at Issue Project Room, co-sponsored by Bell Labs.
Aimée Portioli also known as Grand River, is a Dutch-Italian composer, musician, producer based in Berlin. While mainly connected to the fields of electronic music and sound design, her compositions transcend these genres.
Her work is known equally for her film scores as for her experimental and ambient projects. Influenced by classical minimal music Grand River's work integrates a large variety of sound structures and symphonic calculations, often blurring the lines between traditional composition and research-based modernism.
https://www.mixcloud.com/amit-stark/